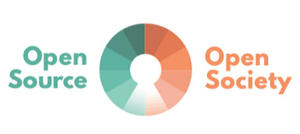 Making open source culture more accessible to governments, established businesses, startups, and the public.
[See below for a special limited offer]
If you know me at all well, you'll know that I'm a huge fan of Open Source. I run Linux on my laptop (OK, it actually runs in a VirtualBox on Windows), and I believe that I negotiated the first Open Source software development contract with the New Zealand Government in 2003. This week's Startup of the Week is not your traditional two-hackers-in-a-garage startup, but rather a conference and community that has the potential to turn New Zealand into a world leader.
Open Source // Open Society ran its first conference ran last year, and the organisers and participants were so thrilled with the results that they've committed to making it an ongoing annual event. The main purpose is to celebrate open source culture and its potential impact on wider culture and society. There are four basic principles: Participation, Collaboration, Transparency, and Freedom to innovate, and they can disruptively transform the way we interact with each other, the way we do business, and the way we govern ourselves as a society.
This conference is not only for beardy Richard Stallman wannabes. The speaker lineup includes some serious firepower from government agencies like Statistics New Zealand and the US Department of Homeland Security, businesses like Catalyst IT, Enspiral, and Silverstripe, and civil society organisations like Action Station and Figure.NZ. Personalities like Mark Jennings, Evan Henshaw-Plath, Bernard Hickey, Max Rashbrooke, and former prime minister Sir Geoffrey Palmer will also be taking part. And the people backing the conference are equally diverse, including MBIE, Victoria University, Flick Electric, iWantMyName, Te Papa, and others.
According to cofounder Anthony (Ants) Cabraal, New Zealand is the perfect place to have this discussion. "We have a really progressive public sector, we're ambitious, and we're ready to lead the world in designing new ways of collaborating to bring about more open government and more democratic engagement." And Kiwis have a knack for contributing – I don't have any stats to hand, but I'd venture to guess that New Zealand is near the top of the table for highest number of open source contributions per capita of any country.
Ants says that the idea for OS//OS started in 2014 when Github planned to come to New Zealand to hold their first user conference outside of the United States. Linc Gasking had a vision to take advantage of this and turn it into something much bigger, just before leaving the country to focus on 8i. With not much time left before the conference was scheduled to take place, Ants and cofounder Silvia Zuur managed to "catch the grenade just before it hit the ground" and turn the conference into a resounding success, with 380 people attending.
Ants says that scaling from year one to year two has been really interesting, building the brand, and establishing a trajectory and direction. Everything about the conference will be bigger and better this year – more sessions, more speakers, more workshops. This year, in addition to the conference, there are three additional associated events. The first one was Open Data Day which took place on 7 July. There will also be a Collaboration Café on 18 August, and an Open Source Hackathon at Enspiral Dev Academy on 20 August.
For a conference like this to work, it needs a really strong voice from innovators, people willing to think outside the box, and startup entrepreneurs. In other words, people like you. It will be a rare chance to learn from and connect with global leaders in open source thinking for technology businesses, and extend your networks across the tech, business and government sectors.
SPECIAL OFFER
To that end, we can give you a special offer of half-price tickets to OS//OS for subscribers to this blog. In order to qualify, you need to be a registered subscriber – just fill in the form on the subscribe page, and respond to the confirmation email. We'll send out the promo code and instructions to subscribers only on Thursday 4 August. But be in quick – we only have 15 tickets to give away.
If you miss out for some reason, you can get full-price tickets from the OS//OS site.
Hopefully this year's OS//OS will be a hit, and we'll look forward to many more years of conference like this that bring together the government, tech, and innovation communities. I'll see you there.